Honda Civic 5 Door
Completely re-designed and re-engineered, the new Civic 5 Door epitomises our innovative spirit and quest for technical excellence. The result is a car created with a unique personality and sporty soul, a car that is exciting to drive, refined, comfortable and sophisticated. Above all, it's a car built around one vital component. You.
Call your local Vertu Honda dealership to arrange your test drive or fill in the form below.
Every inch of the new Honda Civic captures the spirit of Honda thinking – from the pioneering turbocharged VTEC engine to the class leading 478 litre boot space. In fact, whichever way you look at it, you'll see more change than ever before.
As you move through the Civic's crisp 6-speed manual or smooth new CVT automatic gearbox, the tightly tuned aerodynamics grip you to the road. And with technologies like Agile Handling Assist, the car immediately responds to your every touch.
Interior Comfort and Practicality
Flexible boot space - The Honda Civic has flexible boot space. The generous tailgate access, together with 60:40 split folding seats make a big boot space even bigger, increasing the capacity to 1,200 litres; perfect for carrying all the kit you need for whatever life throws at you.
Opening glass roof - The panoramic roof provides an atmospheric view from within the Honda Civic. Open it up and bring more of the outside world inside, day and night.
Spacious interior and heated seats - Generous headroom and ample legroom, together with heated front and rear seats, makes journeys in the Honda Civic a real pleasure.
Advanced Safety Systems
Blind spot information -The Honda Civic will give you warning when an unseen vehicle is detected in your blind spot making lane changes and overtaking easier and safer.
Stay In Lane - Lane Departure Warning and Lane Keep Assist technologies will keep you on the straight and narrow.
Intelligent-Adaptive Cruise Control - Safety comes first with the Honda Civic. It can sense traffic ahead and cleverly predict if a car is about to cut in front of you.
Low Speed Following with Adaptive Cruise Control - Low-Speed Following, with Adaptive Cruise Control, maintains a set cruising speed and following distance.
Connected Driving Experience
Personalised Home Screen - The Honda Civic is a sleek, sporty 5-door hatchback; a real driver's car that comes with the Honda 7" CONNECT touchscreen.
Driver Information Interface - A sporty dashboard not only displays the odometer, rev-counter, outside temperature and other gauges, it also flags up important messages and notifications for the driver.
Sound System - An in-car entertainment system, with scientifically positioned speakers, creates a full musical experience inside the Civic.
Fuel Economy and Performance
Continuously Variable Transmission - Our new CVT automatic transmissions deliver an efficient and relaxing drive by perfectly mating with the new family of turbo engines.
Turbocharged engines - with power and economy to match its looks, the Civic's VTEC Turbo engines can really boost performance when you need it. The revised 1.6 i-DTEC diesel engine produces 120 PS and 300 NM torque for a dynamic driving experience. Earth Dreams Technology means performance and economy are combined with emissions o 93 CO2 (g/km).
Direct handling - Confidence comes with exceptional handling and a positive feel through the car. By intelligently monitoring individual wheel speed, the Civic continuously analyses grip.
ECON mode - With ECON mode selected the Civic's engine and climate control system are modified to help improve fuel efficiency.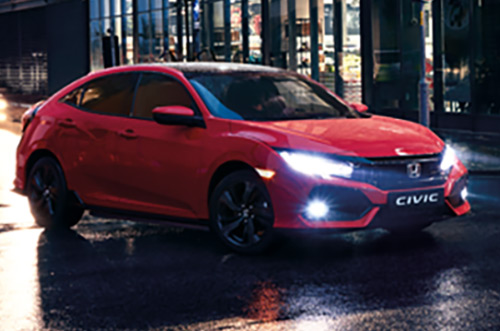 Distinctive package with sporty style
Entirely new body design
Low and wide stance with improved aerodynamics
LED lighting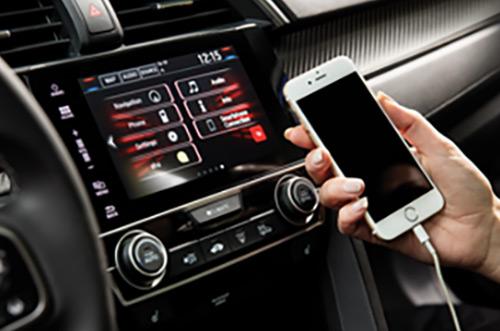 Advanced Connectivity
Apple CarPlay
Android Auto
Wireless charging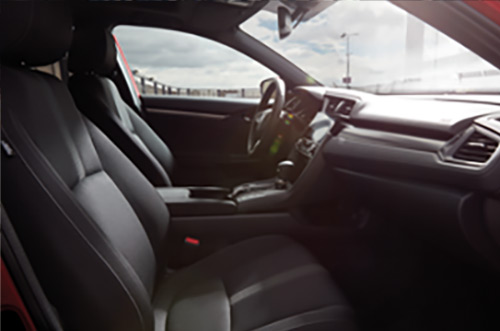 Class-leading space with enhanced quality
More driver and passenger space (front and rear)
Easy loading with wide and tall tailgate aperture
Improved interior quality and comfort
Quieter cabin acoustics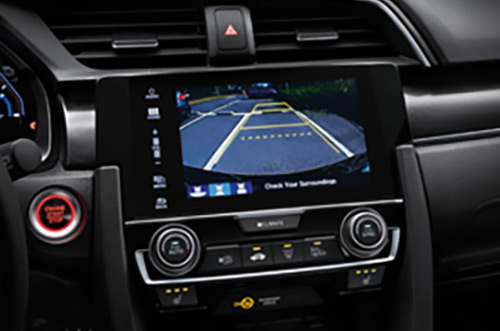 Advanced Safety Technologies
Honda SENSING as standard on all grades with new features including:
• Road Departure Mitigation
• Intelligent Speed Limiting
• Intelligent-Adaptive Cruise Control
• With Low Speed Follow (CVT only)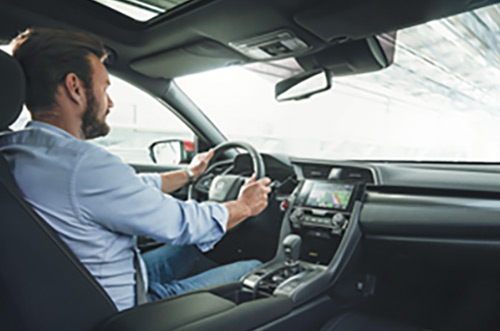 Engaging and dynamic driving experience
New powerful and efficient Earth Dreams 129PS and 182PS
Improved manual and CVT transmission
Entirely new platform with Independent
Rear Suspension
Engaging low driving position
Improved Visibility