Volkswagen and Honda take victory at Donington Park for the BTCC
21/04/2015 07:28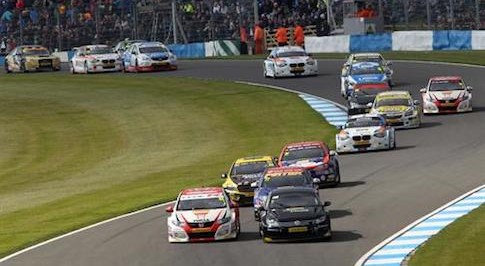 Volkswagen and Honda take victory at Donington Park for the BTCC
The three most successful drivers in the Dunlop MSA British Touring Car Championship field took a win apiece in a thrilling triple-header at Donington Park on Sunday (19 April).
Behind the wheel of the trusty Volkswagen and Honda cars, Jason Plato, Colin Turkington and Matt Neal crossed the line to take victory in rounds 4-6 of the championship.
In race one, Team BMR's Plato immediately blasted past Gordon Shedden's Honda Civic Type R off the line and had enough grunt in his VW CC to be nudging the sister car of Colin Turkington into the first corner.
Reigning champ Turkington held on for much of the opening lap but eventually had to give way to Plato on the run to the final chicane. Plato powered away by more than a second before sustaining the gap for the remainder of the race.
In race two, Turkington made it by the pole-sitting machine of Shedden on lap one and, although the pair scrapped ruthlessly early on, the VW eventually pulled away to take a comfortable victory, becoming the fifth different driver to win in the opening five rounds.
In the final race of the day, it was Honda's Matt Neal who earned the bragging rights as the first double victor of the year after he came out on top of a relentless multi-car battle in race three.
Neal, who had already clashed with Jordan's MG at the Old Hairpin, hauled in the WSR car and squeezed his Civic Type R into the lead with just two laps to go.
Following the triple-header at Donington Park, Neal leads the standings by two points from Turkington, with Shedden a further five points adrift in third. Honda has also taken the lead in the manufacturer/constructor standings, while Team BMR head the teams' table.
by: Sophie Williamson-Stothert
All News