Vertu Honda Motorcycles benefits from exciting refurbishment
05/06/2018 13:44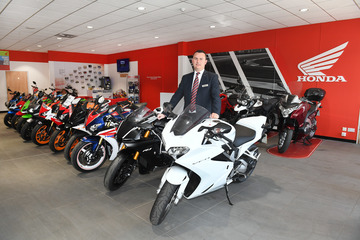 Vertu Honda Motorcycles benefits from exciting refurbishment
Vertu Honda Bikes in Grantham is preparing for an exciting year ahead as it reveals the results of its recent £96,000 refurbishment.
The dealership, which is located on Tollemache Road, just off Spittalgate Level, Grantham has created an environment where motorcyclists and Honda enthusiasts alike can enjoy browsing, buying, selling and servicing all makes of bike. True to Honda tradition the showroom is modern and spacious and pays tribute to Honda's great history and racing DNA.
At Vertu Honda Grantham a highly experienced team of bikers are on hand to welcome you and offer advice on sales, parts, clothing and accessories, as well as expert servicing by highly trained Honda technicians. The new showroom will provide a fitting background to display the new 2018 range of Honda's including the new CB125, CB300, CB1000 and range topping new 2018 Goldwing. From scooters to commuters, from adventure and touring to super sports and be it for sales or service the team are sure the new showroom will all help create an enhanced ownership experience.
In addition to the latest range of Honda bikes on display, the site has various services available to customers including MOTs and stocks clothing and accessories from leading brands such as Arai, Shoei and Spada, not to mention over 50 used machines of all makes and models all prepared to Approved Honda standards. The site is also home to Alpha Rider training so it's a great place to visit to get on or get back on the bike of your choice. A friendly welcome and coffee on a ride out is assured, who knows you may well meet British Superbike riders at one of our legendary open days!
General manager, Mark Goode commented; "The recent refurbishment of our bikes showroom, which follows on from our car dealership refurbishment in 2016, is the latest to benefit from Vertu Honda's ongoing investment programme. Above all it displays the confidence that our company has in the Honda brand and the Grantham area as a key retail location. After all, the dealership is a popular ride out destination which enjoys some of the best roads to experience on two wheels for miles around! The results are fantastic. Our new and improved showroom does true justice to the great brand we represent and it has instilled even more confidence and excitement in our team for the future. Most importantly we look forward to welcoming our valued customers in 2018 and beyond to one of the East Midlands premier ride out locations."
All News