TT legends sign with Honda Racing for 2016
08/12/2015 17:55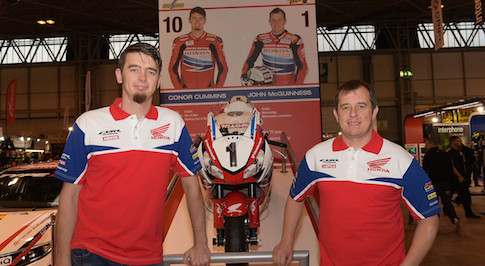 TT legends sign with Honda Racing for 2016
Honda Racing has yesterday announced that TT heroes John McGuinness and Conor Cummins are to stay with the brand for the 2016 road racing season.
The pair, both of whom are well established within the road racing scene, will compete aboard Honda's CBR1000RR Fireblade SP in the Superbike classes at the North West 200 and also the Superbike and Senior races at the Isle of Man TT.
Later in the year, both riders are scheduled to race at Macau, whilst Cummins will also compete in the 2016 Ulster GP.
McGuinness boasts an impressive 23 TT wins to his name, one of which he claimed in last year's senior race, in which he also set an outright lap record around the 37.73-mile Mountain Course with a 132.701mph lap.
The 43-year-old commented: "Smashing the lap record was the best feeling, but I know that there's some great competition out there who are looking to take that from me. I'm confident in the Fireblade, and also myself, I know I have a good package to get back out there next year and do it again."
Isle of Man native Cummins, 29, claimed two podium places in tricky conditions at the 2015 Ulster GP aboard the Honda CBR. The 29 year old spoke optimistically of the 2016 season: '2015 was a mixed season for me, I didn't really get the results I wanted at the North West or the TT, but it all came together at the Ulster and leaving with two second-places was great.
'The Fireblade is a great machine and I'm so happy to be back with Honda Racing again for now my third year. I feel like 2016 could be my year, I have two-years experience with the CBR now under my belt and looking forward to seeing what the season brings.
The pair will also race with the private Jackson Racing team on Honda's CBR600RR in the Supersport class at the NW200 and TT and in the 2016 Endurance World Championship Superstock class aboard the Fireblade SP. Cummins will compete for Jackson Racing in the Superstock class on the roads.
by: Laura Thomson
All News