Tenth generation Honda Civic unveiled in Geneva
02/03/2016 11:48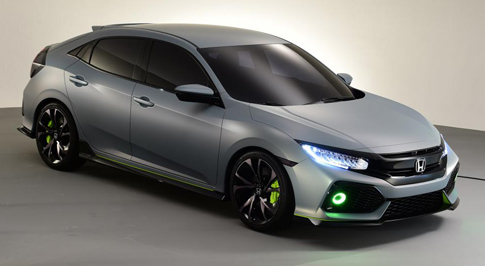 Tenth generation Honda Civic unveiled in Geneva
The Geneva Motor Show has seen the unveiling of the long awaited Honda Civic, the tenth generation British-built hatchback.
Following the investment of 270 million euros, the car is to be produced in a plant in Swindon, and will go on sale around the UK and Europe in early 2017. The new five-door has had a stylistic overhaul from its previous iterations, and its body has been reshaped into a sleek, sporty and aggressive style. It's 30mm wider, 20mm lower, and 130mm longer, meaning the interior is even more space than before, too.
Under the bonnet, a pair of new VTEC Turbos join the 2.0 litre engine of the Type R, which are a 1.0 litre three cylinder and 1.5 litre four cylinder. The 1.6 litre i-DTEC has also been modified slightly for less friction and a better fuel efficiency rating.
Daisuke Tsutamori, head of design, stated: "We knew that we needed to create a striking and stand-out exterior design that challenged conventional European compact styling while staying true to the original Civic's core values. The result is a marriage of distinctive and sporty design, rewarding driving dynamics and versatile practicality."
You can look forward to hitting the road in the gorgeous new Civic early next year.
All News