Honda targets Guinness World Records attempt for fuel efficiency
29/05/2015 06:46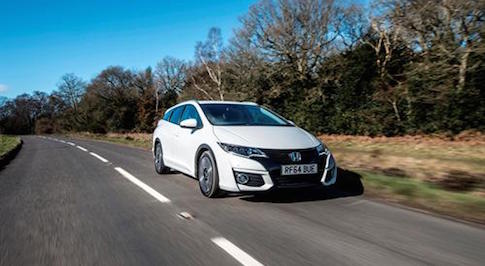 Honda targets Guinness World Records attempt for fuel efficiency
Honda is set to put the real-world fuel economy of its 1.6 i-DTEC engine to the test in an 8,500-mile drive across all 24 contiguous EU countries. In doing so, the carmaker aims to set the benchmark for a new Guinness World Records title in fuel efficiency.
On Monday 1 June, two members of Honda's European Research and Development (R&D) team will set out on an epic journey from Aalst, Belgium in a Honda Civic Tourer. Heading towards the Netherlands and Germany, their trip will see them navigate the Continent in a clockwise direction, with the aim of returning to their starting point some 25 days later, on June 25, having covered a total of 8,459miles.
The title attempt never attempted in Europe follows several independent tests, which have proven Honda's 1.6 i-DTEC engine to consistently out-perform its quoted fuel efficiency in real-world driving conditions.
Under the rules of the Guinness World Records title attempt, the same two drivers colleagues Julian Warren and Fergal McGarth must be in the car for every kilometre of the journey. Based at Honda's European manufacturing facility in Swindon, UK, the pair volunteered to take up the challenge and will be charged with driving an average of 370 miles (7.5 hours) each day.
Fergal McGrath said: "We are very much looking forward to the record attempt, and while we're excited we're both a little nervous about the scale of the task that awaits us. A huge amount of planning has gone into taking on this challenge and we look forward to what we hope will be a successful result when we return to Brussels on June 25th. But we've got more than 170 hours behind the wheel to contend with first!"
The official Guinness World Records title is 'Lowest Fuel Consumption all 24 contiguous EU countries', measured in litres per 100km and miles per gallon calculated over the entire journey. If successful, the new record will apply to all cars, including hybrid and electric models.
Based on strict and rigorous guidelines, the record attempt requires the car to enter each of the 24 countries specified, collecting a range of evidence including a fuel/mileage logbook, GPS readings, video, photographs and independent witness signatures to prove that it has done so.
Philip Crossman, managing director of Honda UK, added: "Since its launch in 2013 we have seen the 1.6 i-DTEC engine consistently over-perform on real-world fuel efficiency in our Civic, Civic Tourer and CR-V models, and this is our opportunity to put it to the ultimate test on a huge scale. We are very confident of a great result and we wish the team all the very best of luck as they take on the challenge."
Supporters will be able to follow the progression of the two drivers live by visiting http://www.tracker.co.uk/RealFuelChallenge.
by: Sophie Williamson-Stothert
All News