Honda signs fastest female on two wheels for British Superbike Championship
30/01/2015 12:30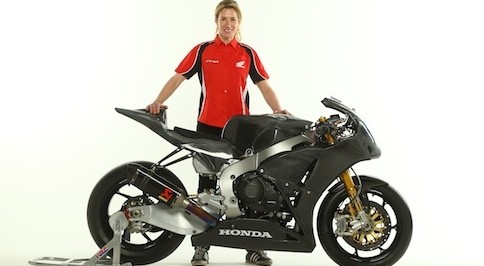 Honda signs fastest female on two wheels for British Superbike Championship
Honda UK has signed Cheshire-based Jenny Tinmouth for the brands official team in the British Superbike Championship.
Tinmouth will be the only woman to compete in the series in 2015, joining fellow riders Jason O'Halloran and Dan Linfoot on the Honda Racing squad.
Having competed in the series since 2011 with her own private team, Tinmouth is the first and only female to have ever ridden in the British Superbike Championship an accolade for which she was awarded a Guinness World Record. She will now join the official Honda Racing team, racing in the prestigious premier class aboard the Honda CBR1000RR Fireblade.
Tinmouth currently holds the record as the fastest female along the 37-mile road race at the Isle of Man TT. She broke the female lap record in her first year at the event and went on to break her own record the following year with an average lap speed of 119.9455mph for both she received further Guinness World Records.
Tinmouth will begin her 2015 BSB campaign with Honda Racing at the opening of the 12-round championship at Donington Park from 4-6 April. To follow
Head of motorcycles at Honda UK Nick Campolucci said: "There'll be a focus on Jenny because she's a female racer, of course. After all, she's the first and only woman rider to compete in British Superbikes. But she's a proven competitor and current Isle of Man TT lap record holder. Jenny joins the team on merit and we are very pleased that we have the opportunity to work with her."
Tinmouth added: "I'm absolutely over-the-moon and cannot believe I'm riding for Honda Racing in the British Superbike Championship. The offer was totally unexpected. I went for a meeting with Nick (Campolucci) to discuss the season and had a few cheeky questions I wanted to ask about Honda helping me out with bikes, and when the offer came I couldn't believe what I was being asked. I went into the meeting thinking it would just be some help and came out as a full-time Honda rider. It's always been my ultimate dream to ride for the team and to have the opportunity this year is just amazing. I'm riding the Honda BSB bike for the first time during a team test in March and I can't wait."
by: Sophie Williamson-Stothert
All News