Honda revealed
20/10/2014 16:14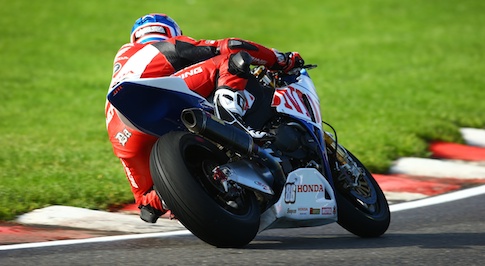 Honda revealed
Honda revealed the third special edition British Superbikes liveried Fireblade this weekend at the season finale.
Julien Da Costa was on his final wild card entry of the season aboard the "Honda Hero" liveried CBR1000RR. The Fireblade itself was designed by Isle of Man TT star Conor Cummins.
The specially designed Fireblade was in preparation for Honda's full return to the British Superbike Championship in 2015. Cummins design was among eight created by several 'Honda Heroes' in a design competition whereby fans voted for their favourite special edition livery from a gallery on the Honda website.
The 'Blue Lightning' creation from Isle of Man TT ace Cummins received almost 5,000 votes. Other budding artists taking part included three times British Touring Car Champion Matt Neal and Superstock Champion Jason O'Halloran's 'FS3'.
Cummins said: "I don't rate my creative ability so I was a little nervous before getting down to my design. Saying that I am so delighted, if not a little surprised, that 'Blue Lightning' received the most votes. I can't wait to see the design come to life at Brands Hatch this weekend to make a great final display for Honda in the 2014 season."
The three wild card liveries will also be on display at the Honda stand at Motorcycle Live in November. Visitors will also be able to see the famous Urban Tiger tribute, which first appeared on the track at Snetterton in June, as well as the eye-catching special Motorcycle Live livery.
by: Rebecca Chaplin
All News