Honda Racing release 360 degrees race video
08/12/2015 18:01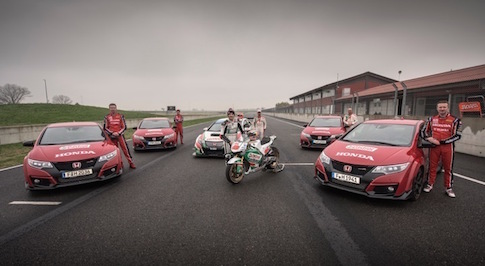 Honda Racing release 360 degrees race video
Honda Racing has released a new 360 degrees video which allows views to get up and personal with its high performance vehicles.
Using a breakthrough filming technique, the video was shot as part of an event to showcase the new Honda Civic type R's capabilities, alongside the brand's relationship with Castrol.
The video, which is designed to be played on a tablet or mobile device, allows the viewer to jump in the passenger seat with Gabriele Tarquini in his Civic Type R, and Tiago Monteiro in his Castrol Honda Civic Touring Car, as they power around Italy's Circuito Tazio Nuvolari.
British Touring cars stars Gordon Shedden, Matt Neal, and Jack Clarke join in the fun in the new Type R, as they battle to keep ahead of Monteiro's Touring Car, and Honda MotoGP star Jack Miller onboard a Honda RC213V.
Watch the video below to find out who wins in the race between two and four wheels
by: Laura Thomson
All News