Honda NSX shortlisted for What Car? Reader award 2016
03/11/2015 14:46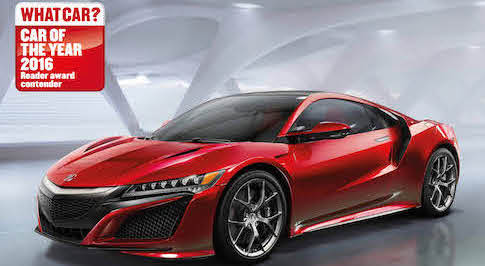 Honda NSX shortlisted for What Car? Reader award 2016
The hotly anticipated Honda NSX supercar has been shortlisted for the What Car? Reader Award 2016.
The NSX has been designed specifically to bring a 'new sports experience' to the supercar sector.
Featuring low and wide proportions, as is customary in the sector, the NSX boasts an aggressive front design and new lights that pay homage to the original NSX.
The NSX boasts high performance figures of 565bhp and a sub-3 second 0-62mph acceleration. This power comes from an all-new midmounted 75 degree DOHC V6 engine with twin turbochargers mated to a specially-developed nine-speed DCT.
Philip Crossman, Managing Director at Honda (UK) commented: "It's great to see that I'm not alone in looking forward to the launch of the NSX and I have my fingers crossed that it will help us retain the Reader Award title. We were all very proud when the HR-V won the crown back in January and to be able to see the title go to the NSX would be brilliant. I will be encouraging everyone I speak to and see to cast their vote."
by: Laura Thomson
All News