Honda NSX pricing details released for Europe
11/03/2016 10:12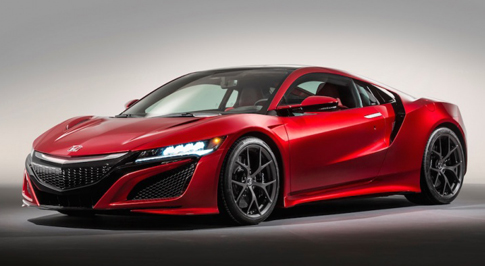 Honda NSX pricing details released for Europe
After the excitement that accompanied its US launch, European fans can rejoice with the news the scorching NSX will be rolling off the production line and into dealerships this side of the pond by autumn 2016.
NSX stands for New Sports eXperience, and the car is designed to be a new addition to Honda's supercar line up, challenging existing assumptions about the vehicle class. Physically, the NSX is classically wide and low, combined with an aggressive front bumper design and contemporary, attractive surfacing. The twin-turbo V6 engine is mated to a 9-speed DCT, another all-new Honda design, and an electric motor applies torque directly to the crankshaft for higher output. The interiors are rich red leather with a black dash and red stitching. It really is a thing of beauty.
As confirmed by Honda, Europe is to be the primary export region for the NSX, and will be on sale at limited dealerships throughout the continent in key locations. The cars will be produced exclusively in Marysville, USA, at the Performance Manufacturing Centre, and is to be manufactured via a highly refined, low volume method. The NSX will be available to pre-order from April, and has a price tag of £130,000 in the UK.
All News