Honda Endurance Racing team hope to replicate success seen at Catalunya
21/07/2015 16:05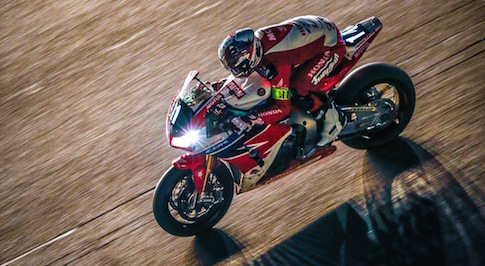 Honda Endurance Racing team hope to replicate success seen at Catalunya
Following on from their successful second place at the 24 hours of Catalunya in Barcelona, the Honda Endurance Racing team are preparing for this Sunday's Suzuka 8 Hours race in Japan.
On board a Honda CBR1000RR Fireblade SP, the team - which consists of French riders Julien Da Costa, Freddy Foray and Sebastien Gimbert will battle the heat and extreme conditions at the 3.62 mile Honda-owned Suzuka circuit, against 70 other EWC (Endurance World Championship) teams.
The team are hoping to repeat their podium placing seen in Spain, but their main objective is to score as many championship points as possible. Currently, they are sat in 6th place in the championship standings, with 22 points, behind BMW MOTORRAD France and SRC Kawasaki, amongst others.
The team are confident approaching the race but are not underestimating the capabilities of their competitors.
Racer Foray commented: "I remember last year's race at Suzuka it was tough with hot temperatures and humidity. This year we are confident ahead of the race; we have to push 100% and hopefully score some all-important points."
His teammate Gimbert added: "It's always great to race there and to compete against MotoGP and SBK riders, but we can't forget that there will be many Japanese endurance specialists as well who are really strong and spend their whole year training for this race. It is always something special to race at Honda's home with all the riders from different championships."
by: Laura Thomson
All News