Honda develops ground-breaking fuel-cell vehicle
19/11/2014 09:30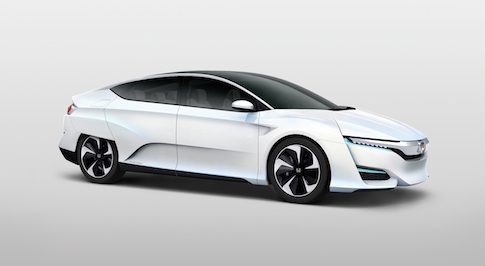 Honda develops ground-breaking fuel-cell vehicle
Honda has unveiled a concept car for an all-new fuel-cell vehicle, the Honda FCV Concept.
The manufacturer also revealed the Honda Power Exporter Concept, a concept model for an external power feeding device that enables AC power output from the FCV.
The all-new FCV production model that will be based on this concept is scheduled to go on sale in Japan by the end of March 2016 and subsequently in the U.S. and Europe.
In addition to the FCV and external power feeding device, Honda will further promote the application of the Smart Hydrogen Station (SHS) - a packaged hydrogen station unit that adopts Honda's original high-differential-pressure electrolyser.
In this way, Honda will work toward the forthcoming hydrogen society under three key concepts 'generate', 'use' and 'get connected' and continues to pursue a CO2-free society.
Honda says it views hydrogen as a high-potential, next-generation energy carrier due to the fact that hydrogen can be generated from various energy sources and is easily transportable and storable.
Based on this view, Honda has been positioning the FCV - which uses electricity generated through the chemical reaction of hydrogen and oxygen as a power source for the motor as the ultimate environmentally responsible vehicle and taking a proactive approach to the research and development of FCVs since the late 1980s.
In 2002, the Honda FCX became the first fuel cell vehicle in the world to be certified by the U.S. Environmental Protection Agency (EPA) and the California Air Resources Board (CARB). With these certifications, Honda began lease sales of the Honda FCX in Japan and the U.S.
In 2003, Honda developed the Honda FC STACK, the world's first fuel-cell stack able to start at below-freezing temperatures. Then in 2005, Honda became the world's first to begin lease sales of FCVs to individual customers in the U.S.
by: Becca Chaplin
All News