Honda CR-Z named Green Car of the Year
03/12/2010 11:44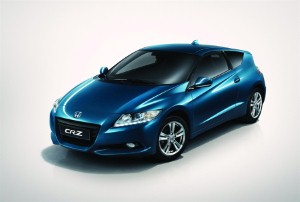 Honda CR-Z named Green Car of the Year
Honda has won a coveted award from a national industry publication.

The company reports that the Honda CR-Z has been named Green Car of the Year by Top Gear magazine in its annual awards.

Described as "compact, accessible and responsive" by the publication, the model blends sporty looks and a modern design with good fuel efficiency and reliability.

The win takes the total number of awards bagged by the car to four in the last month.

It recently won the What Car? Green Awards' Best Sports Car trophy, as well as Japan Car of the Year 2010-2011 and Eco Gadget of the Year from Stuff magazine.

Dave Hodgetts, managing director for Honda UK, said the Top Gear award was a "great achievement".

"We're so pleased with the reception the CR-Z has received from the press. The car has only been on sale for nine months, but we're already looking for a bigger trophy cabinet!" Mr Hodgetts added.

Honda was named the UK's most reliable car manufacturer in the annual Fleet News survey last month.
All News