Honda CR-Z launched in New York
24/09/2010 11:54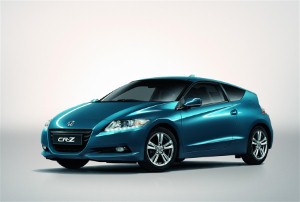 Honda CR-Z launched in New York
Honda has launched its CR-Z model in the US with the country's first ever public 3D footage broadcast.

Yesterday (September 23rd), the company projected images of the vehicle in Times Square to promote the release of the sport hybrid.

Commercial footage of the Honda CR-Z was shown on a HD screen in the square, while Sony provided 3D Gran Turismo 5 racing simulators for the enjoyment of the public.

Meanwhile, models from Maxim Magazine distributed copies of the publication's special 3D October issue, while hip hop group NERD gave a performance in Times Square.

Tom Peyton, senior manager of national advertising at Honda in the US, said: "To bring attention to the synergy of sport and hybrid that the CR-Z offers, the advertising campaign relies on a variety of non-traditional elements like 3D technology to get the attention of young, potential CR-Z buyers."

Already on sale in the UK starting at £16,999, the Honda CR-Z is available in S, Sport and GT versions and includes 16-inch alloy wheels, three drive modes and climate control as standard.
All News