Honda CR-Z given five-star safety rating
26/08/2010 11:57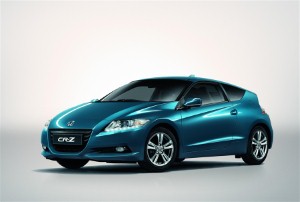 Honda CR-Z given five-star safety rating
The Honda CR-Z has been rated one of the safest cars in Europe by Euro NCAP.

Given a maximum five-star assessment, the car was particularly noted for its overall safety following a similar testing of its Civic, Jazz, Accord and Insight models.

The ratings system considers a number of factors to create a unified score, including adult, child and pedestrian safety, impact protection and the availability of driver aids.

According to Honda, the company tests all of its models at a special crash test facility at the Tochigi R&D centre, using different solutions to reduce the chance of passenger injury.

"Euro NCAP's new assessment reflects Honda's commitment to overall vehicle safety, complementing Honda's long standing in-house safety testing which seeks to improve real world safety," the manufacturer stated.

Honda CR-Z safety features of particular note include airbags, three-point seatbelts, ABS, Brake Assist and active headrests.

In related news, a hybrid version of the Honda Jazz was recently released, becoming the world's first B-class hybrid car.
All News