Honda comes out on top at MPG Marathon
20/10/2014 09:49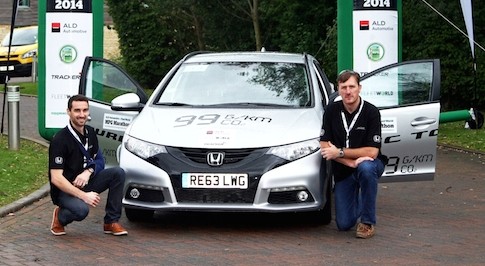 Honda comes out on top at MPG Marathon
Honda engineers Fergal McGrath and James Warren, driving a Honda Civic Tourer, have won this year's MPG Marathon eco-driving challenge in a nail-biting finish with last year's champions, Nick Chapman and Rosemary Homer.
Over the two days of the event the Honda pair expertly guided a Civic Tourer 1.6 i-DTEC around the specially designated 330-mile route, recording an outstanding 97.92mpg.
However, it was a very close run thing following a determined and sustained challenge from reigning champions, Chapman and Homer, both employees of Leicestershire County Council, who, until last year's event, had never even met before.
Other notable achievements this year included that from British Touring Car Championship stars, Matt Neal and Gordon Shedden, both members of the 2014 Honda Yuasa Racing Team, who were driving a Honda Civic 1.6 litre diesel Tourer.
Taking part in their first-ever MPG Marathon, their performance of 80.23mpg saw them finish in ninth place in the field of 26 teams of competitors.
Day one saw the contestants start from the luxurious Cotswold Water Park Four Pillars Hotel, at South Cerney near Cirencester, and head for the Brecon Beacons, with a lunch stop in Abergavenny, Monmouthshire, and an afternoon tea stop in Worcester.
On day two, they again set off from South Cerney, heading for Andover in Hampshire for a coffee stop and a lunch stop at the stately Bailbrook House Hotel in Bath.
In all, the course comprised a combined total of approximately 330 miles, although contestants were free to plan their own routes, provided they included a number of pre-agreed, fixed points, which made keen navigational skills essential.
Event organiser and Fleet World managing editor, Ross Durkin said: "Congratulations to all the contestants in this year's MPG Marathon. There were some outstanding team and individual performances, some near misses and some great results.
"Above all else, this year's event showed conclusively that the current generation of modern cars and vans are more fuel-efficient and more environmentally friendly than ever before, and are an outstanding testimony to the achievements of all the participating motor manufacturers."
by: Rebecca Chaplin
All News