Honda Civic Hatchback Prototype Set For Worldwide Debut
26/02/2016 16:12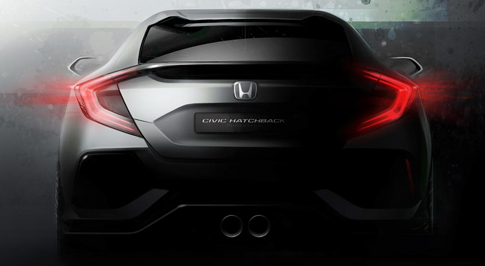 Honda Civic Hatchback Prototype Set For Worldwide Debut
At the 2016 Geneva Motor show, Honda is expected to unveil the next development in its continued renewal of its European car range. Included in this unveiling will be the world premiere of the Civic Hatchback Prototype.
The preview of the car will give the public a look at the exterior design of the brand new hatchback, which is set to be launched in Europe in early 2017. Produced in the UK, the car is to be exported globally, including the USA. All that's available to view online so far is a mysterious rendering of the rear of the car, but already it's plain to see this is going to be a special car.
Alongside the Civic Hatchback Prototype, also expected at Geneva Motor Show is the Honda NSX. After going on sale in the USA at the Detroit Motor Show, it is expected that in Geneva in March the car will go on sale for the European market. The NSX features characteristic low, brawny proportions, with sleek exteriors and an aggressive front bumper. The all new hybrid supercar also features a DOHC V6 engine. Keep an eye out for it at Geneva.
All News