Honda announces specifications for new Africa Twin touring bike
24/07/2015 16:09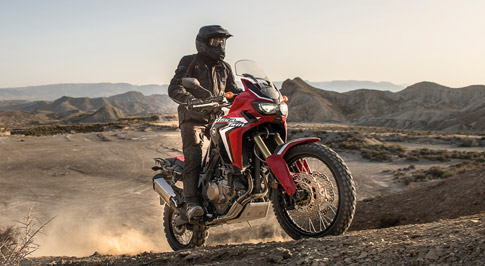 Honda announces specifications for new Africa Twin touring bike
Honda has announced the technical details of its new CRF1000L Africa Twin, which will be in Honda showrooms across Europe in late 2015. Like its celebrated forerunners, the CRF1000L Africa Twin is thoroughly equipped for adventure, with a potent engine and dynamic chassis ready to cover continents on or off-road.
From the start of the CRF1000L Africa Twin project there was one motorcycle that consistently impressed with its balance of usability, poise and handling, on road and in the dirt the seminal XRV750 Africa Twin. It proved a worthwhile benchmark, even when set against today's myriad choice of adventure motorcycles.
The machine that now bears its name may share no common part with the old model but it inherits to the full the essence and spirit of what made the XRV750 Africa Twin so good. The "go anywhere" approach starts with the engine, which has to perform in off-road situations as well as on-road long-range touring, and all points in between.
The CRF1000L Africa Twin's 1000cc parallel twin power plant draws heavily on Honda's off-road race experience in the form of the CRF250R/450R competition machines, and uses the same four-valve Unicam head design for compact overall dimensions. Strong and linear power and torque deliver instant response anywhere in the rev-range, accompanied by a satisfying, characterful deep growl as rpm rises.
The engine's short height contributes to the CRF1000L Africa Twin's excellent ground clearance, allowing the rider to tackle multiple road surfaces. It also uses clever packaging of componentry to both dynamic and aesthetic effect.
Following its design theme of "unlimited adventure", the Africa Twin is styled with minimum bodywork in a tough, lightweight form that offers both weather protection for the rider and a slim, agile feel. Dual headlights maintain the original's signature presence and the seat height adjusts 20mm to either 870mm or 850mm. Meanwhile, a large 18.8-litre fuel tank, coupled with the engine's fuel efficiency, provides a range of up to 250 miles.
To tailor the overall electronics package to capably tackle any conditions on and off-road, the Honda Selectable Torque Control (HSTC) system offers three levels, and it is possible for the rider to turn off the ABS system for the rear wheel.
The CRF1000L Africa Twin will be available in three colour options: CRF Rally, Tricolour and Black.
by: Sophie Williamson-Stothert
All News