First ever Honda RC213V-S handover takes place at Honda's UK Racing Headquarters
24/12/2015 12:17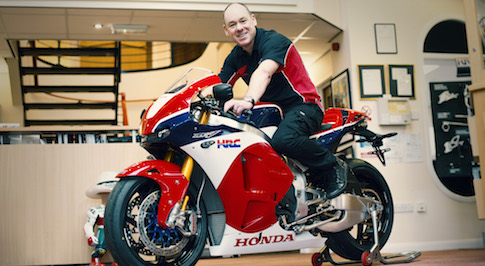 First ever Honda RC213V-S handover takes place at Honda's UK Racing Headquarters
The very first customer handover of Honda's new RC213V-S has taken place, from the Japanese UK Racing headquarters.
Mr John Brown, was the first lucky customer worldwide to get his hands on the RC213V-S, a bike which is described to be closer concept, specification and riding feel to a MotoGP racer than any previous road legal motorcycle.
Mr Brown commented: "When I first heard of this project I thought 'when this happens I have to have one of these'. It is a truly amazing opportunity to own a piece of HRC racing history. As soon as it went on sale I registered my interest on the website, and when I received the call from Honda to say my order was accepted it was a very special day for me. I'd like to thank all the people at Honda for making this dream come true."
The RC213V-S went on sale on 13th July 2015 after three years of development. Each machine is hand-built in a specialist area of Honda's Kumamoto factory and costs £150,000.
by: Laura Thomson
All News