First drive: Honda Civic Type R
30/06/2015 11:29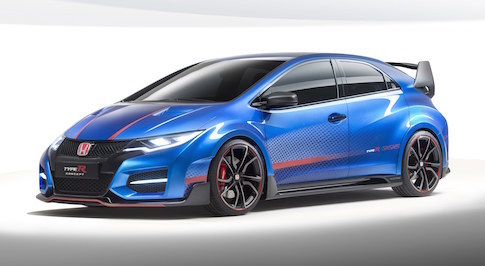 First drive: Honda Civic Type R
After five years of waiting, the Honda Civic Type R is back, boasting 306bhp and 400Nm of torque. For those eagerly awaiting the launch, only one thing is left to find out was it worth the wait?
Far from a standard Civic with painted-on go faster stripes, this highly-tuned hot hatch has been aerodynamically designed to go faster. Everything that could have been modified on the exterior of the Civic has been, and the finished creation is a sleek, finned road car that wouldn't look amiss on the track.
The spoiler isn't just for show, either. It actually helps the Type R produce real downforce, whilst the front-wheel-drive defies the odds and stands out among its rivals of the rear-wheel-drive variety. Torque-steer the usual downfall to front-wheel-drive-cars has been minimised with a clever new front suspension setup.
Under the bonnet, the sports influence doesn't end. The VTEC 2.0 litre, four cylinder engine, paired up with a turbocharger (the first of its kind) may not be to everyone's taste but power is not lacking, nor is the engine roar the pair of artillery-sized dual tipped exhausts ensure this. The turbo also keeps the economy figures of the Type R low, with Honda claiming 38.7mpg and CO2 emissions of 170g/km.
Much of the sporty spec on the Civic Type R comes as standard 29-inch-alloy wheels, comfortable red sports seats, LED headlights, an alloy gear knob and pedals and a red and black leather steering wheel. The dash plays host to Bluetooth, a rear parking camera and Honda's Connect media system.
Inside you will find Honda's full suite of safety systems, which is comprised of blind spot warning, a cross traffic monitor, forward collision and lane departure warnings as well as traffic sign recognition.
All in all, the Honda Civic Type R is essentially a 'race car for the road'. It boasts impressive capabilities on both street and track the electric power steering being quick to react and to the 306bhp coursing through the front wheels.
In standard mode the car will go from 0 62mph in 5.7seconds with a top speed of 167mph - but engage the +R button and the engine becomes more responsive, allowing more torque at lower engine speeds, firming up the suspension and reducing the power assisted steering.
The Civic Type R has surpassed expectations to become something really quite good. A weapon on road and track, and the looks to match, the Type R does not disappoint.
by: Sophie Williamson-Stothert
All News