Complete the fastest virtual lap of the Nürburgring to win a new Honda Civic Type R
16/07/2015 14:14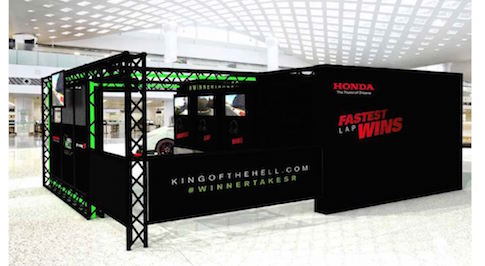 Complete the fastest virtual lap of the Nürburgring to win a new Honda Civic Type R
Honda is offering fans the chance to win a new Civic Type R from the comfort of their local shopping centre.
Shoppers will be invited to have a go in a state of the art racing simulator speeding around the Nürburgring Nordschleife. The driver with the closest time to the Honda test drivers' time of 7:50:63 will win the new Honda.
The notorious track in Nurburg, Germany was constructed between 1925 and 1927 and soon gained a reputation as a merciless route through the Eifel forests.
So terrifying is the 12.94 mile long track, that Formula 1 legend Jackie Stewart nicknamed it 'Green Hell'.
The simulator challenge has been introduced to celebrate the arrival of the hotly anticipated Type R in UK dealerships, and the record lap time set by the pre-production model in 2014.
Once they have completed a lap in the simulator, anxious hopefuls will be able to keep updated via a live leader board at www.kingofthehell.com or by using the Twitter hashtag #WinnerTakesR.
Leon Brannan, head of cars at Honda UK commented: "The buzz is really starting to reach fever pitch now as we head closer to the extreme new Type R arriving in our UK dealerships. Knowing the commitment and passion of our Type R fans I know they'll be ready to take on this challenge, so we look forward to seeing what they've got!"
The King of the Hell roadshow will kick off at the Westfield Shopping Centre in Shepherds Bush on Friday July 17 for three days, before heading out to 17 other locations across the UK. For more information, visit www.kingofthehell.com.
The new Honda Civic Type R will go on sale in UK dealerships this summer, with an on the road price starting at £29,995.
by: Laura Thomson
All News