Classic Hondas Revisited: Honda NSX
25/05/2016 17:14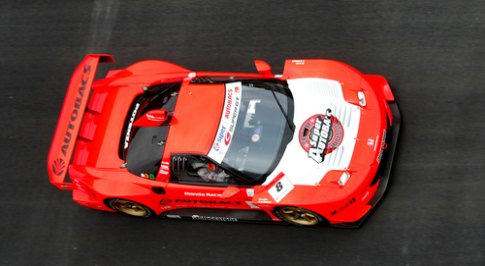 Classic Hondas Revisited: Honda NSX
This month at Vertu Honda, we are revisiting another classic from the Honda line up, one of the most instantly recognisable, sought-after Hondas of all time. In 1984, the pioneering Japanese manufacturer decided to create a supercar that would outdo them all, and not only succeeded in endeavour, but created a near-mythical car that's reputation still ignites conversations among car enthusiasts to this day. What's more, after a 20 year hiatus, this year, it's back. Ladies and gentlemen, please put your hands together for the Honda NSX.
Honda's 'New Sportscar eXperimental' came out of nowhere, unleashed onto roads in 1990, giving Porsche and Ferrari a heart attack. Honda's aim had been to produce a car that could match any Italian or German motor for speed, while at the same time providing a lower entry price and Honda's famous reliability. The NSX won the hearts of the motoring world with its stunning, timeless exteriors created by famed Italian car designers, Pininfarina, with advanced aerodynamics and stylings inspired by the cockpit of an F-16 fighter jet. If you're not already drooling, know that Ayrton Senna himself aided in the design of the car's chassis. Senna also helped Honda in refining the NSX's suspension tuning and handling abilities, honed after extensive testing at Honda's Suzuka Circuit.
The 1990 NSX came in two very different powertrains. One was a lightweight 3.0 litre, 24-valve, V6 engine, mated to a 5-speed manual gearbox, kicking out 270bhp, with 210lb.ft of torque. The other option was a 4-speed Sequential SportShift automatic transmission that generates 252 horsepower and 210 lb.-ft. of torque. Compared to its rivals at the time though, the NSX wasn't needlessly overpowered. For comparison, the 1990 Ferrari 348 TS generated 291 break horsepower, beating the NSX by 21bhp. However, raw power wasn't the aim of Honda's engineers when they envisioned their supercar.
What sets the NSX apart from all competition is its everyday functionality. When drivers throw hundreds of thousands of pounds at a Ferrari or a Porsche, owners will tell you that the cars tend to spend a lot of time in the garage, kept in pristine form, awaiting the perfect weather conditions. Adding miles to them will drop the price quickly, and, if you ever want to see your money again, the potential for reselling is a large factor in choosing a high end car. Enter the NSX. Ask one of the 18,000 proud owners what they love about their car, and you will notice a recurring answer: the driveability. What else would you expect from a Honda?
The NSX has been praised for its achingly cool looks and its magnificent handling, but where the car really stands out, what makes it truly unique, is the fact that it is an absolute workhorse. NSX owners don't have to worry about weather, road conditions, or services. The NSX was designed to bridge the gap between the super and the every day, and consequently is nigh-indestructible, despite its glamourous image. The joy that stems from owning an NSX comes from the fact that you can actually, genuinely use it. It's not a trophy car. Sure, it's a stunning head turner, but it never forsakes practicality.
If reminiscing about Honda's glorious supercar has got you putting your rose tinted spectacles on for the 1990s, you're in luck. After a decade of teasing, the new NSX has arrived. With a 3.5 litre V6 engine, 9-speed dual-clutch transmission, a total output of 573bhp and a 0-62 of 2.9 seconds, the NSX is back with a vengeance. The car will make its UK debut at Goodwood Festival of Speed, driven by perfectly quaffed race driver Jenson Button.
All News