BTCC stars celebrate success of Honda apprentice graduates
28/05/2015 08:35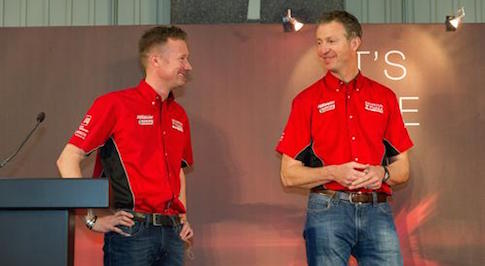 BTCC stars celebrate success of Honda apprentice graduates
Honda British Touring Car Championship (BTCC) top-runners joined the brand in celebrating the success of Honda's latest crop of apprentice graduates.
In a ceremony held at Honda's UK training academy, the Honda Institute, 49 graduates from the company's Car, Motorcycle and Power Product divisions took to the stage to receive certificates confirming their successful completion of the carmaker's acclaimed UK Apprenticeship programme.
The apprentice graduates were presented their scrolls by Phillip Crossman, managing director of Honda UK. In addition, four of the young talents were recognised for their technical expertise and work ethic with the title of 'Apprentice of the year' in each of Honda UK's three business areas, and in Parts Operations.
This latest group of graduates brings the total number of students to have enrolled on the Honda Apprenticeship programme to more than 1,255 since 2001. The programme consistently scores above the national average for completion rates, with its latest timely success rating more than 37.6 per cent higher than the industry average.
Keen to play their part in congratulating the successful candidates, Matt Neal and Gordon Shedden, currently third and first in the BTCC title standings with Honda Yuasa Racing, took to the stage for two question and answer sessions, before posing for photographs with the gathered graduates and their families.
Matt Neal said: "It's great to be here again taking part in such a fantastic celebration of achievement. All of the graduates should be very proud of themselves, and it's inspiring to see such hard work and commitment from these young people."
Crossman added: "The apprentice graduation is always a date I look forward to as it recognises the incredible talent looking after our customers across the Honda network. These young people are some of the best-prepared in the industry, and I'm very proud to toast their excellent achievements. They have all worked very hard to get here, and I know they'll go on to achieve even more success in the future."
by: Sophie Williamson-Stothert
All News