BTCC champions head to Goodwood to pilot the new Civic Type R
18/06/2015 13:18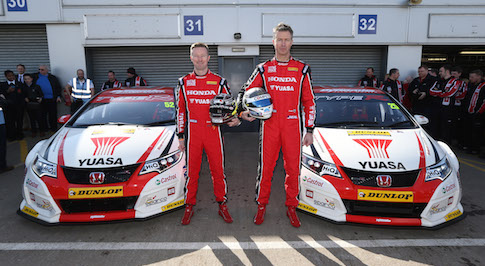 BTCC champions head to Goodwood to pilot the new Civic Type R
Honda Yuasa Racing drivers Matt Neal and Gordon 'Flash' Shedden will be making an appearance at the Goodwood Festival of Speed Moving Motor Show on Thursday 25 June, where they will pilot the new Civic Type R up the famous hill climb.
Spending just one day at what is frequently billed as the British Motor Show before heading up to Croft for the fifth round of the British Touring Car Championship (BTCC) season, Matt and Flash will be providing passenger laps in the new hot-hatch.
Running the new Civic Type R in the British Touring Car Championship, Flash and Matt are currently lying second and third in the drivers' championship respectively with the team leading the manufacturer's cup.
Philip Crossman, managing director at Honda UK, said: "We only have a limited number of runs for the Civic Type R over the Moving Motor Show and we wanted to ensure those that got to go in the cars experienced them to their full potential. And what better way to do this than to get the championship winning Matt and Flash to put both the cars and the passengers through their paces."
Matt Neal, triple BTCC champion, said: "The hill climb at Goodwood is iconic and we couldn't pass up the opportunity to demonstrate what the new Civic Type R is capable of. Flash and I are fresh back from the Slovakiaring where we helped launch the car to the UK media so we have had plenty of practice with the road car around a track."
Gordon 'Flash' Shedden, 2012 BTCC champion, added: "The car is absolutely mega and so driving it around Goodwood is going to be fantastic fun. It's also a massive responsibility to ensure that potential customers get the best possible run up the Goodwood hill without frightening them too much!"
by: Becca Chaplin
All News