Boston general manager rewarded for hard work
16/03/2018 09:47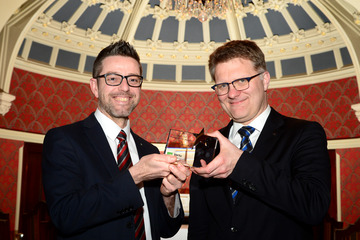 Boston general manager rewarded for hard work
Vertu Honda Boston is celebrating after a colleague was recognised as 'General Manager of the Year' at a national awards ceremony.
Matthew Hodgkinson was presented with the award at Vertu Motors plc's annual CEO Awards. The event, which is hosted by the Group's CEO, Robert Forrester, celebrates the top performing colleagues across the Vertu Honda, Bristol Street Motors and Farnell Jaguar Land Rover franchises, which Vertu Motors plc operates.
Matthew is the first person to win a 'General Manager of the Year Award' within Vertu Honda and just recently celebrated his tenth year with the company. Last year, Tobi Lukins, who has now progressed to sales manager at Vertu Honda Boston, was named 'Business Manager of the Year' at the awards.
Robert Forrester said: "Matthew has demonstrated outstanding leadership abilities in his two years as general manager and has led his team to victory throughout the past year. The dealership has performed exceptionally, falling in the manufacturer's top eight dealers in the whole of the UK.
"He makes customer service his main priority, which is reflected in the 100% Judge Service rating that the dealership currently holds, which is based on customer feedback, and has also shown himself to be a great role model through motivating his colleagues and encouraging personal development among his team."
Matthew said: "To be recognised as General Manager of the Year is amazing and I am slightly overwhelmed. It is a personal achievement, but one I could not have managed without the support and hard work that my colleagues at Vertu Honda Boston have demonstrated throughout the year. This is an award for all of us."
All News