Auto Trader Awards for Honda's trusty commuters
25/11/2015 16:21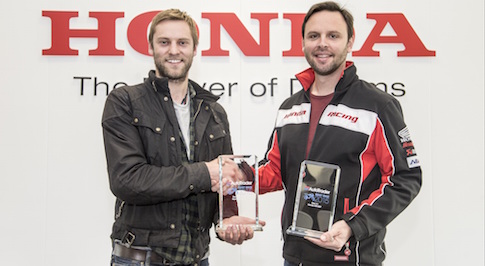 Auto Trader Awards for Honda's trusty commuters
Honda's reliable motorcycle range has scooped a number of Auto Trader awards.
The learner legal CB125F wowed the judges with its claimed 145mpg and price tag £200 lower than the outgoing model. The upright, streetfighter styled bike was awarded the prize for the 'Best A1' machine.
It's bigger brother, the NC750X was named Auto Trader's 'Best Commuter', for its successful mix of mix of adventure styling, a high riding position and outstanding fuel economy.
Auto Trader editor-in-chief and head judge, Jon Quirk, commented on Honda's Award-winning bikes:
"If you want a user friendly motorcycle to start your career on two wheels, it doesn't get friendlier than the CB125F. It's a really solid package with amazing fuel economy."
On the NC750X he added: "Commuter bikes need to prioritise practicality and fuel economy over all else and, at 80 miles per gallon, we're talking scooter levels of fuel consumption."
Fellow judge and editor of Esses magazine, David Burton, added: "Our cities are so clogged up, this kind of bike really feels like the future for commuters."
by: Laura Thomson
All News