170 years of long service recognised by Vertu Honda Stockton
27/02/2017 17:52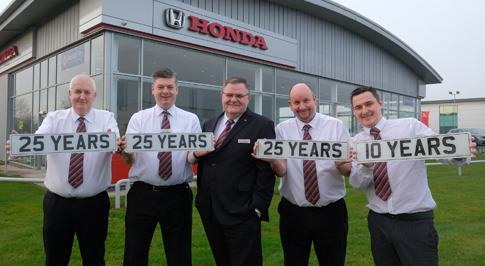 170 years of long service recognised by Vertu Honda Stockton
Vertu Honda has recognised the long service of the team at its Preston Farm dealership, who have amassed more than 170 years between them.
Longest serving colleagues are parts manager David Hembury, workshop controller Andy Price and service manager Craig Swainston, who have each been with Honda for 25 years, and sales executive, Matthew Bacon, who has been at the dealership for 10 years.
To commemorate the milestone, each was presented with a plaque, bottle of champagne and a letter from Robert Forrester, chief executive of Vertu Motorsplc, thanking them for their commitment to the business.
Collectively, the dealership's team of 15 motor professionals has experience in the industry spanning more than 170 years.
Martin Boagey, general manager at Vertu Honda Stockton, said: "I'd like to thank and congratulate Andy, David, Craig and Matthew for their loyalty and commitment to Vertu Honda. One of our core values as an organisation is to recognise and celebrate excellent performance and commitment to the business.
"The experience they have gained during their tenure with Honda is invaluable to us and all three are an integral part of the team here."
Chris Taylor, operations director of Vertu Honda, said: "It's important to us that our customers receive the very best service, and part of that is ensuring our colleagues buy into our ethos. We have a significant number of long-standing colleagues and customers welcome the continuity of care that brings."
Vertu Honda Stockton at Preston Farm Industrial Estate was one of three Honda dealerships acquired by Gateshead-based Vertu Motors plc in January 2016.
All News