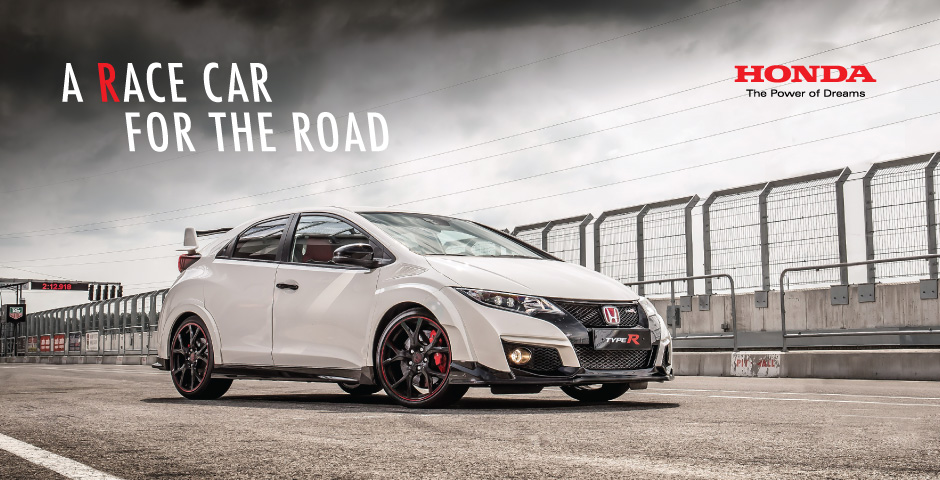 Itís the Type R youíve been waiting for
Harder, faster, stronger. Constructed with all Hondaís racing knowhow, itís a pure sports machine that gives you the maximum performance whether youíre hitting the track or the road. The athletically poised new body shape is enough to get the pulse racing but itís when you look closely at the figures that youíll really feel the blood start to pump. At 0-62mph in 5.7 seconds i t ís the fastest accelerating front-wheel drive hatchback around, making it a car that has to be experienced to be believed. Itís ready. Are you?

Raw yet refined
The Type R cockpit is designed to promote a driving experience that engages the senses. After all, raw power shouldnít mean a raw deal when it comes to refinement. From unique black sports seats, trimmed in suede-effect fabric with red double stitching and side supports, to the aluminium gear lever knob, the Type R has all the details covered. There is even a plaque affixed to the transmission tunnel showing your carís individual serial number.

The new 2015 Civic Type R signals the start of a new performance era for Honda
Billed as a ĎRace car for the roadí, the new Honda Civic Type R is the most extreme and high-performing model to ever wear the acclaimed ĎRed Hí badge. With a high-revving all-new two litre VTEC TURBO engine, advanced new suspension systems, stand-out function-led styling and a new +R track mode it is set to bring new standards to Europeís high-performance front-wheel drive hatchback segment. Peak power output is 306BHP, with the engine red-lining at 7,000rpm, delivering a class-leading top speed of 167mph.
Enquire now to book a test drive
Your Details